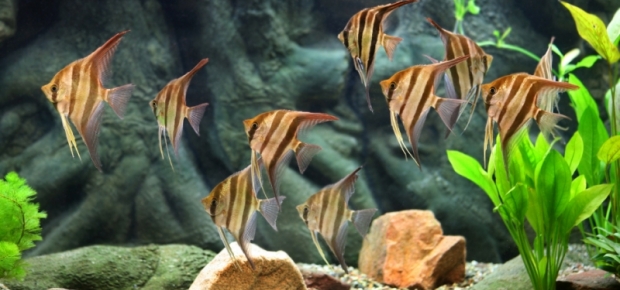 To create a truly beautiful and healthy aquarium, you need a mix of the right fish and plant life. It can be confusing to choose the right ones, especially if you are a novice, so here is our guide to help you.

Choosing Fish for Your Aquarium

There are a few things that you need to consider when choosing fish for your aquarium. Chief amongst these is the size of the tank as you should only have a certain amount of fish in the tank. Too many and you'll find the water quality deteriorates quickly, causing you to have to do extra maintenance and your fish potentially getting sick. Also be aware of how large the fish grow. What fits comfortably in your tank at the start could cause crowding once the fish are full grown.

You should also choose fish that are compatible with each other. There is no point in getting beautifully coloured fish species if you find that one is aggressive and picking on the other one. A good guide to getting compatible fish is to buy schooling fish. Another hint to choosing fish is to find ones that occupy different levels of the tank. For example, some fish like to hang around near the top of the tank, some like to be near the bottom, some like the middle, and others will swim all over the tank.

Of course, you should always choose healthy fish from a reputable pet store, fish dealer or breeder. A good tip to look for is to make sure that your supplier's tanks are healthy and clean, with bright, happy fish. Make sure that you know about your fish's care requirements before you take them home!

Choosing Plant Life for Your Aquarium

Plants are generally only an option if you have a freshwater aquarium but they can add a real element of beauty to your aquarium and make them look like a more natural habitat. As well, they can give your fish somewhere to hide and play in, as well as oxygenating the tank and helping to process fish waste.

Generally speaking there are three types of plants for your aquarium – those that float, those that stay firmly rooted to the bottom and those that come in bunches and wave and float around. Always use plants that are water plants. If you don't, you will only run into problems.

Real plants do require maintenance such as pruning so if you are looking for something a little less effort, choose one of the beautiful artificial plants that are available. These still look stunning but they are less work. Alternatively, combine real and fake plants.