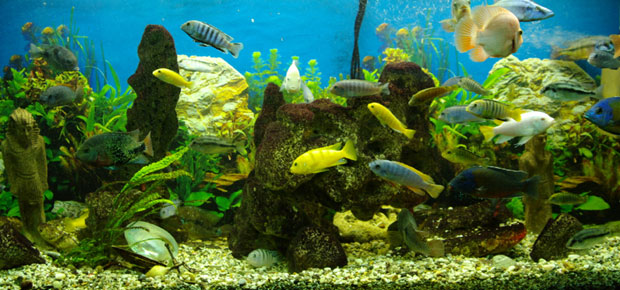 Buying the Aquarium
When buying an aquarium, you have a huge range to choose from. You can get small tanks that rest on a table top right through to large freestanding tanks or even ones that can be installed into a wall. The most important thing to remember is to ensure that it is large enough for the fish that you plan to keep. Also make sure that it looks good in the area in which to plan to keep it. Generally there is no such thing as too large when it comes to aquariums but you do not want it to dominate an area.
What to Put in the Aquarium
Of course, you will need all of the standard sorts of things to keep the water and fish healthy such as filters, pumps, and heaters but there are other things that you put in your aquarium to make it look absolutely amazing. Gravel is a necessity but you can choose what colours they are. Dark colours will make your fish look more vibrant for example. You can also include beautiful aquatic life such as plants and coral. These can really take your tank from drab to fab. Of course, if you have these, you will need to provide lighting to ensure that the plants and coral not only grow but thrive. Lighting will also make your fish happier and healthier and it will allow you to see inside of your tank better. Donít forget about aquarium ornaments either. This can provide excellent focal points within your aquarium and they also give your fish places to hide and play in. Think divers, castles, logs, rocks, and just about anything else that you can come up with.
Choosing the Fish
When you are choosing fish for the aquarium, you have a huge variety to choose from. This could be goldfish, angel fish, platys, guppies and much more. Choose fish that you love the look of as it is you that will be enjoying them swimming around in their aquarium. If you are choosing more than one type of fish for your aquarium, make sure they get along and will not fight. Your aquarium specialist or pet store will be able to help you with this.

Fish are not only a beautiful addition to the home; they are incredibly calming and relaxing. Ensure that you are getting the absolute most from your fish by building an aquarium that all your friends and family will be jealous of.

Topic: Aquariums