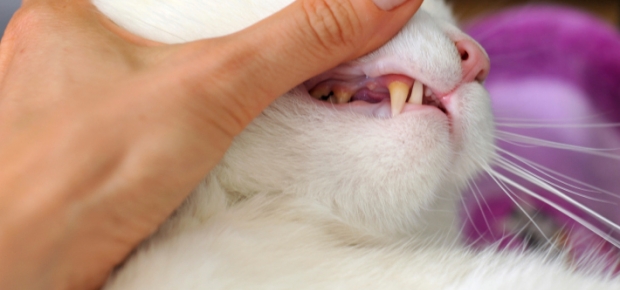 You've got yourself a little bundle of joy but now you find that it's chewing on everything you see, and has suddenly gotten a little sooky and cranky. If that's the case for you, it's entirely possible that your kitten is going through the teething process. That's right, just like babies, kittens teethe, and they often go through the same issues! Here are our hints and tips to get you through the teething period intact (oh, and don't be surprised if you step on a little baby tooth that's gotten caught in the carpet!).

When Will My Kitten Get Adult Teeth?

Just like humans, kittens have a set of deciduous teeth (baby teeth) and permanent teeth. All of the baby teeth will be through by the time your kitten is around six weeks old. These teeth are surprisingly sharp but as the kitten matures and gets older, they will fall out to make way for the permanent or adult teeth. At around four months of age, the permanent incisors will start to come through and when the kitten is around 6 months of age the adult canines will come through. From eight months on, the premolars and molars will start to emerge.

Do Kittens Teethe?

The answer to this question is yes, kittens definitely go through a teething process, just like babies do! During the teething period, you may find that your kitten has loose teeth and a sore mouth and gums. In some cases, your baby cat may seem crankier and not wanting to eat. If this is the case for you, help your kitten out by giving them soft, wet food while they are teething to ensure that they don't lose any nutrients. The teething period starts when your kitten is around 4 months old and I can continue for several months afterwards although they are quite often completely done by the time they are 7 months old.

How Can I Help My Kitten while it is Teething?

It can be hard to watch your kitten be upset in any way but there are some things that you can do to help it through the teething process. The main thing to keep in mind is that teething can be quite stressful to your poor little cat, so don't be surprised if you get an accidental nip as the kitten tries to find relief. It is incredibly helpful to give your kitten something to chew on to help relieve the pain and the teeth to break through the gums. Hard toys made from rubber or plastic can help, or you can give your kitten special teething toys and rings. Many cats find relief from chewing on wool or other fabrics so fabric covered toys or even blankets can be of a huge help. If your cat chews on things that you don't want it to, don't punish them for it. Simply take it away and provide something more appropriate for them.