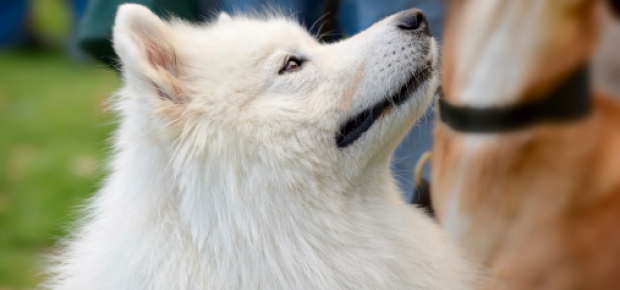 If you are after an absolutely gorgeous and placid large dog, you'll find it near impossible to go past the Pyrenean Mountain Dog. Here's everything you need to know about this beautiful breed.

The Pyrenean Mountain Dog Appearance


The Pyrenean Mountain Dog is a large, heavy boned breed that stands up to 70cm tall at the shoulder and weighs up to 50kg or more. the nose is black as are the rims around the eyes, giving the appearance that they are wearing eyeliner. they have a medium length coat that is mostly white in colour but it can have lemon or grey markings. The Pyrenean Mountain Dog is a double coated breed which means that they have a dense soft undercoat and a coarser outer coat.

The Pyrenean Mountain Dog Temperament

The Pyrenean Mountain Dog is known for its placidness. It's a gentle giant of a breed. It is however also very self confident and protective of its family, making it a great guard dog. It is not aggressive but it will definitely let you know of anyone coming. The Pyrenean Mountain Dog is also known for being a very affectionate, lovable and mischievous breed! Being a large breed, training is essential, and while they accept training well, it can take a few years and a lot of patience to train them fully.

Caring for the Pyrenean Mountain Dog

The Pyrenean Mountain Dog is a medium maintenance dog grooming wise. You'll need to keep the coat clean and brush it thoroughly at least twice a week. Brushing will need to be done more often in shedding season. You may be tempted to just clip the coat but it is actually be better to leave unclipped so that the coat protects the dog against both heat and cold. Exercise wise, be carefully not to overdo it, especially when they are puppies. This breed of dog will accept as much or as little exercise as you care to give it but you should at least walk a few times a week. Diet wise, you'll need to give it a high quality diet of fresh meat, vegetables, rice, pasta, good quality dry food, and fresh bones. Do not feed too much as they are actually not huge eaters! The Pyrenean Mountain Dog lives for eight to twelve years on average.

Choosing a Pyrenean Mountain Dog

The Pyrenean Mountain Dog is best suited to active families and people that have a large yard for the dog to run around in. As they are a large breed of dog, they can have trouble with their hips, so you should always buy your dog from a registered breeder that has cleared their breeding stock of this problem, as well as other issues such as rolled in eyelids, and forelimb lameness. The breeder should be more than willing to show you health clearances! As well, the breeder should give you information about the best diet for the dog and what calcium supplements you'll need to feed for the first year or so of the dog's life.

Topic: Breeding