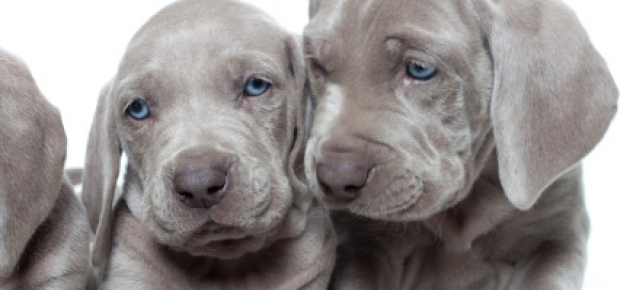 If you are after a dog that is playful, devoted, and absolutely beautiful, you can't go past the Weimaraner. Here's everything you need to know about this stunning breed!

The Weimaraner Appearance

The Weimaraner is a medium to large sized dog that stands up to 68cm tall and weighs up to 38kg. They have beautiful pale eyes and large, floppy ears. The Weimaraner normally has a short, soft coat but you may be able to find dogs that have long, soft coats instead. They come in just one colour – a beautiful gray to silver gray colour and it is this colour that is a trademark of the breed.

The Weimaraner Temperament

The Weimaraner is famed for being a dedicated companion dog, and they love and will demand attention from their owners. They love nothing more than being near their owners and will happily sit near you or follow you around. The Weimaraner is also known for being fun loving and somewhat of a clown of a dog. Weimaraners are great with children and they get along well with other pets, especially if they get to grow up with them. Weimaraners do need training but the good news is that they are responsive and quite easy to train.

Caring for the Weimaraner

The best way to groom a Weimaraner is by using a rubber grooming mitt to brush them. You should do this a few times a week and more often in shedding season. Other things that you will need do for the Weimaraner is to check and clean its ears regularly, give them a bath a couple of times a month, and trim their nails as necessary. Exercise wise, you'll need to walk it at least once a day or give it a long play session. The Weimaraner will live for around twelve years on average.

Choosing a Weimaraner

The Weimaraner is a great family dog and it is suited to anyone who is prepared to give it the exercise and devotion that it needs. They are definitely not a dog that you can leave in the backyard! You should always get your Weimaraner from a responsible, registered breeder that tries to breed dogs that are as healthy as possible and free from genetic conditions such as hip dysplasia, and Von Willebrand's Disease. The breeder should be more than happy to vet check their puppies and show you health clearances for their parents. You should also be able to visit the parents and the puppies to see their temperament for yourself and to choose a dog that you feel will fit in best with your family.

Topic: Breeding