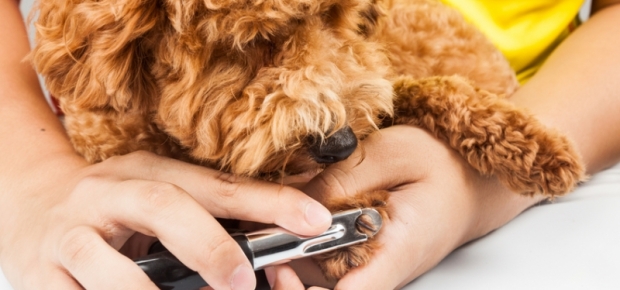 Your dog's nails will need to be trimmed between once per week to once per month, depending on how outdoor active your dog is.
Nail trimming is an important part of grooming that is often feared by both you and your dog. The best way to calm your fears (and make it a somewhat pleasant ordeal for your dog), is to ask the advice of your vet or groomer and training you in the proper techniques for nail trimming. If your dog is trained from very young on nail clipping, then he will feel more comfortable when the task is performed.
If you don't feel comfortable trimming your dog's nails your vet or groomer will be happy to do this regularly.


Types of nail trimmers

There are many different types of nail trimmers on the market today. It is important to purchase a pair of good quality trimmers that are sharp and are also designed for the correct size of your dog. Ask your vet which type of nail trimmers they would recommend. If the nails aren't that long but are sharp, you can take off the edges simply by filing or using a pumice stone.
How to trim the nails

The first step is to get some food treats for positive reinforcement. It is important to make the whole experience positive for your dog.
Start with one treat, reward and come back later if you or your pet seems to be getting nervous. A good technique to use is to hold the handle of the nail trimmers flat against the toe pad and cut straight across the nail, so that the nail will sit just above the ground. This technique makes it extremely unlikely you will cut the nails too short.

Always cut on the white part of the nail. The redder part just below the tip is where the nerves and blood vessels are, similar to the area underneath our nails. If you cut this part, the nail will bleed. The more you cut the nails, the shorter the blood supply gets. So, if your dog has really long nails, you can cut it every few days.

Topic: Grooming