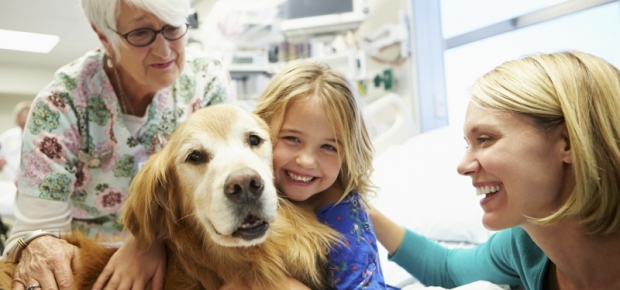 Therapy dogs

Therapy dogs are used to assist patients as part of their treatment. This can take place in hospitals (for adults and children), nursing homes and even in private homes. Dogs can be a wonderful source of happiness, especially for those dealing with health problems.

Therapy dogs can offer many benefits to patients including:
- Improved mood;
- Decreased blood pressure;
- Reduced anxiety levels;
- Reduced pain, and many other benefits.


Could your dog be a therapy dog?

There are many organisations across Australia that facilitate handlers and their dogs to become part of a therapy dog program. Some organisations will charge for therapy dog and handler training, and others will offer it for free. You could start by contacting the hospital in your area. They may already have a program in place, or be able to point you in the right direction. On the most part, being a therapy dog handler is volunteer work.

What makes a great therapy dog?

Therapy dogs encounter lots of different people, and sometimes people who are very unwell. A therapy dog will need to have an even temperament, enjoy meeting and spending time with new people and be affectionate. They should be able to respond to instruction easily, have good hygiene and happy a demeanour.


How will you be involved?

As your dog's owner you will also be involved – unless someone else handles your dog your behalf. This means that you and your dog will be a team. Together, you will visit patients to brighten up their day, interact and spend time with the patient. You will also need to be comfortable with meeting lots of different people, have a calm personality, be positive and friendly.

Therapy dogs can be a true gift and make an incredible difference to those in hospital or other types of care. If you're unsure whether or not your dog will be the right fit, talk to the program facilitators and ask plenty of questions about what's involved. Be upfront about your dog, their personality and why you want to get involved. Completing training is always a great idea, that way you and your dog will always be confident and prepared.








Topic: Natural Pet Therapies, Dogs