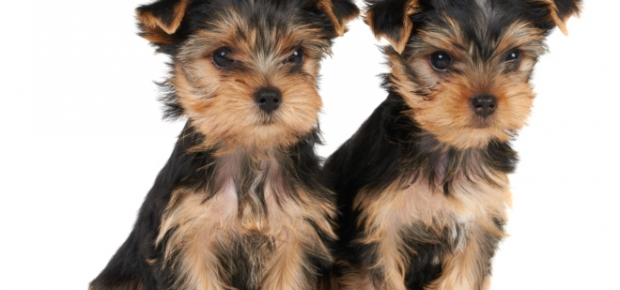 Are you after a cute little dog with loads of personality and loyalty? You can't go past the adorable Yorkshire Terrier, affectionately nicknamed the Yorkie. Here's everything you need to know about this beautiful breed.

The Yorkshire Terrier Appearance


The Yorkshire Terrier is a toy breed of dog that stands about 9 inches tall at the shoulder and weighs up to 3kg. This is a breed that is inconsistent in size though and it's not unusual for a litter to contain small dogs and larger dogs. The coat is long and glossy and it grows continuously rather than shedding. The Yorkshire Terrier is blue and tan in colour.

The Yorkshire Terrier Temperament


The Yorkshire Terrier really is a little dog with a big personality, thanks to their adventurous terrier spirit. While the Yorkshire Terrier is a fantastic dog, it will require training and socialisation to keep that personality in check (so that they don't get small dog syndrome). Training and socialisation will also help to stop them from getting yappy. Even though they are only tiny in size, they are great guard dogs, letting you know of anyone that is approaching. This is due to the fact that they are vocal, protective and loyal dogs. However, when it comes down to it, the Yorkshire Terrier is a dog that absolutely loves human companionship and likes nothing more than being cuddled up to their owners.

Caring for the Yorkshire Terrier


Grooming the Yorkshire Terrier depends on if you want to keep the coat long or if you want to keep it trimmed short. Long haired Yorkshire Terriers will need to be brushed and combed daily to keep the coat lustrous and silky. Trimmed dogs will still need to be brushed a few times a week and you'll need to trim them or have them professionally clipped every few weeks. The Yorkshire Terrier does not like the cold at all so you'll need to give them a sheltered place to sleep, or keep them inside. Exercise wise, you just have to give them a gentle walk or a play session – they don't need much more.

Choosing a Yorkshire Terrier


The Yorkshire Terrier is a dog that is best suited for families with older children or for single and elderly people that are looking for a true companion. You should always obtain your Yorkshire Terrier from a reputable, registered breeder. There are some hereditary conditions that can occur in the breed such as patellar luxation, collapsing trachea, interverterbral disc disease and portosystemic shunts. A responsible breeder will screen all of their dogs and get full health clearances before breeding from them. You should be able to see copies of these clearances. Stay clear of breeders that offer "tea cup" sized Yorkshire Terriers as these are at a higher health risk.

Topic: Owning a Pet