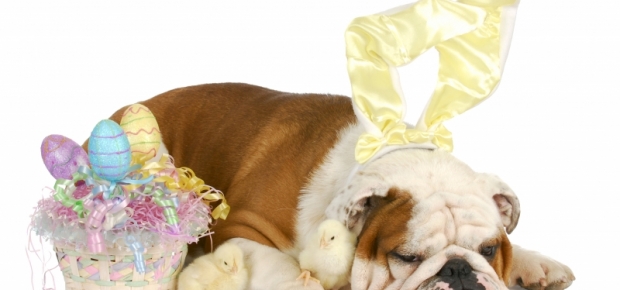 For many families, chocolate is the best thing about Easter. But unfortunately for pets, it is toxic and can easily lead to an emergency trip to the vet!

Dogs In Trouble With Chocolate

"Chocolate poisoning in dogs is a big problem, causing many pets to end up in veterinary hospitals over Easter from poisoning," says Dr Sarah Goldsmid, specialist small animal surgeon from the Animal Referral Hospital in Sydney. Dark chocolate, in particular, contains a higher level of the toxin 'theobromine', which causes dogs to get anxious and hyperactive, start vomiting, have diarrhoea and potentially collapse and die. Dr Goldsmid's own dog nearly died from chocolate poisoning last year.

Ksubi the Pug cross was 10 months old at the time and discovered a 700 gram tub of M&Ms on the kitchen table, consuming half of the colourful chocolate buttons inside the container. "I got a call from my daughter saying Ksubi was throwing up. She became hyperactive, really agitated and wouldn't sit still or settle," says Dr Goldsmid. "Ksubi also started to tremour but didn't get any worse than that. It was a large volume of chocolate to consume for a 6kg dog, but a lot of that was probably sugar." Fortunately, Ksubi vomited up all the chocolate (many different colours!) and the biggest challenge afterwards was to clean the white lounge! "I have still got the multi-coloured vomit stains on the carpet. I can't get that red colour out!" laughs Dr Goldsmid.

Cats In Trouble With Decorations

As for cats and chocolate, because felines are unable to taste sweetness, they are less prone to eating chocolate and instead, more likely to get into trouble with Easter decorations. "Eating strings or foil can cause obstruction of their gut and make them vomit, sometimes requiring surgery," says Dr Goldsmid. "

Easter Lilies are also extremely toxic to cats. One bite of the plant - leaf, flower or stem - can kill a cat by sending them into kidney failure!" Sultanas, raisins or grapes are also toxic to dogs, so make sure you keep hot cross buns out of reach, she adds. "It can also be dangerous for pets to eat leftovers as well as ham bones and other cooked bones," she says. "Fatty meals can cause life-threatening pancreatitis and pets can choke on the bones.

Also, onions and garlic can destroy a dog's red blood cells, leading to anaemia."

Keep pets away from Easter treats and avoid unnecessary trips to the vet, says Dr Goldsmid.
For more advice, contact your local vet.

Topic: Pet Care