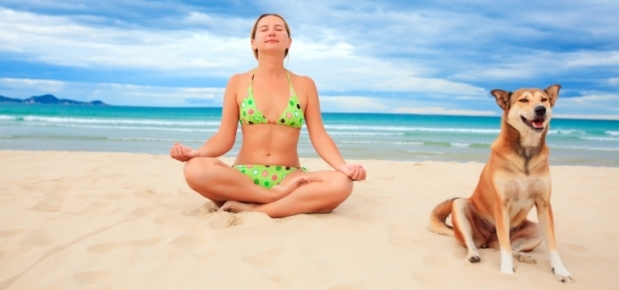 If you like yoga you might know that the yoga pose called "downward dog" was named after the way a dog stretches after getting up. Yoga has always been a popular form of exercise for people but did you know you can now do yoga with your dog?

What is Dog Yoga?


Dog yoga, also known as 'Doga', is the practice of doing a yoga class with your pet pooch and is a combination of relaxation, meditation and breathing exercises. Typically, the owner will do the traditional yoga poses whilst remaining in physical contact with their dog. For some poses, such as the downward dog the owners might gently rest their heads on their canine companions who typically relax and lie down in the class.

The yoga poses can be modified to accommodate various sizes and abilities of both owners and dogs. In addition, part of the class is allocated to gentle stretching and massage for the dogs.

Benefits of Dog Yoga


Participating in Doga classes has many benefits for dogs. The classes can assist to relieve anxiety and promote relaxation and calmness in the presence of other dogs and people and so it's a great way to socialise dogs. Doga classes are suitable for most dogs but would not be suitable for dogs that are aggressive towards other dogs.

Topic: Pet Care