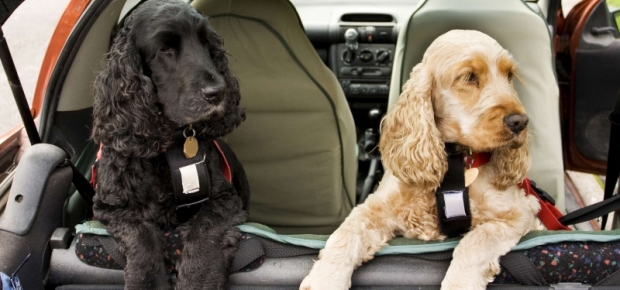 Think of a dog in a car and chances are you see an image of a dog with his head hanging out the window, panting happily as the car drives on. While this is an iconic image, it's actually not safe to have your dogs travelling unrestrained in the car. Keep your dogs comfortable and safe by installing a dog car seat. We've put together some great hints and tips to ensure that you get the right car seat for your precious pooch.

What is a Dog Car Seat and Why is it Necessary?

A dog car seat is essentially like a baby seat but for dogs. The seat is secured via the anchor point in your car or it attaches a headrest or simply sits in place. Your dog's leash attaches to a special tether point inside the car seat to keep them in place and stop them from moving around. The car seat itself is usually padded and it is elevated in order to ensure that your dog can freely see out the window.

Dog car seats are necessary as it is actually very dangerous to give your dog free roam of the car while driving. Not only is there the chance of them getting seriously injured or even being thrown free from the car during an accident, there is also the chance that they can interfere with you as you're driving which can cause the accident in the first place! Unrestrained dogs can also jump free when you've stopped at traffic lights or even jump out of the car when it's moving in order to chase after something that's gotten its attention. Keep your dog safe and free from harm by installing a dog car seat for them!

What to Consider When Buying a Dog Car Seat

If you've decided that a car seat is a must for your pooch, there are a few questions that you need to ask in order to make sure that you have the right one. The first thing you need to do is to check the size of the car seat. You want it to comfortably hold your pooch but not to have too much extra room. A car seat that is too big is actually a little bit counterproductive. Also make sure that you check the actual physical size of the car seat – you want it to actually fit inside your car after all!

Also consider the nature of your dog. Does your dog curl up and go to sleep when they're in the car or do they tend to jump up and down excitedly, trying to see out of the windows? If your dog is the peeping type, a car seat with a booster is ideal, especially if your pup is on the smaller side. of course, you'll also want to check out the style and colour of the dog car seat. Naturally you want one that complements your car's interior and maybe even also your pet's personality!

Topic: Pet Transport, Dogs