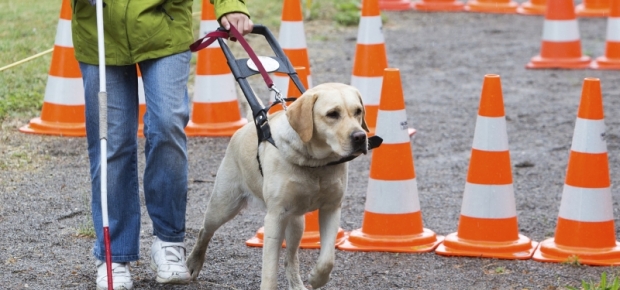 For many years, service dogs have played an extremely important role in supporting people with disabilities to lead more independent and happy lives. The most familiar dogs are guide dogs for those who are blind. There are also dogs who have been trained to assist those with a hearing disabilities and mobility issues. There are dogs who have been trained for seizure alert, dogs who assist people with Parkinson's disease as well as dogs who support their owners emotionally.

Assistance dogs not only help their owner with their disability. They also provide them with more independence and can support them to initiate social interaction with the community around them.


Different Types of Service Dogs:

Guide Dogs

The most commonly recognised dogs are possibly those dogs that assistance those that are blind or vision impaired. These dogs are called guide dogs. Training for guide dogs starts when the puppy is 6-8 weeks old.


Hearing Ear Dogs
These dogs have been specifically trained to assist people who are deaf or hearing impaired. These dogs are trained to alert their owner to a variety of sounds such as the telephone, door knock, door bells, smoke alarm or any unusual noises.


Mobility Dogs

Mobility dogs assist those people who are physically disabled such as those in a wheelchair, those with multiple sclerosis, cerebral palsy, arthritis or any other conditions that may impair balance and gait. These dogs are trained and taught to turn on the light switched, carry items, open doors where possible, bark to alert for help, pick up things that are dropped out of reach, open and close drawers and assist with grocery shopping.


Emotional Support Animals

Dogs can assist people who may have emotional or mental disorders. These dogs can help to reduce symptom-induced stress by providing an emphasis on interaction. These dogs can provide unflagging, unconditional moral support to their owners, much of which is an inspiration to us all.