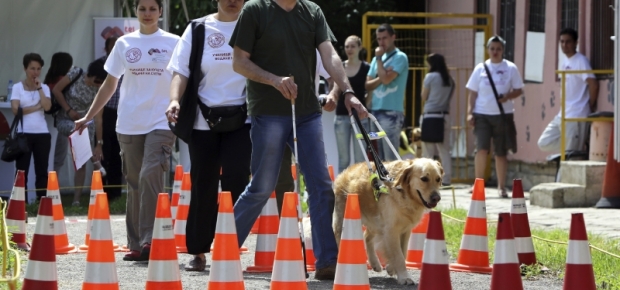 Wet Nose Day

Did you know it takes nearly two years to develop a puppy into a responsible guide dog?
If you have ever been curious about how those amazing guide dogs learn the skills to help people who are blind or vision impaired, then Wet Nose Day is the event for you.


When is Wet Nose Day?

This Sunday, Guide Dogs NSW/ACT is hosting a fun family fun day out where you can learn exactly what it takes to raise a puppy into a guide dog. Visitors can meet 10 week old Labrador puppies, watch a live demonstration of puppy pre-school and watch world-class obedience training.


Whats happening

There will also be plenty of interactive entertainment. Kids can take part in a Blindfold Challenge to test out their navigational skills, have their face painted and enter the guide-dogs colouring-in competition.

Karen Hayter, Guide Dogs NSW/ACT's Puppy Breeding and Raising Manager says, "As well as providing lots of love and cuddles, a puppy raiser's job is to introduce their pup to the sights, sounds and smells it is likely to encounter as a Guide Dog. Integral to this is teaching the pup social skills and basic obedience. Guide Dogs play an incredible role in enabling people with vision loss to get around on their own so they can enjoy a full, active life just like everyone else in the community."

There are an estimated 300,000 Australians with uncorrectable vision loss, 100,000 of whom live in NSW and the ACT. These figures are predicted to increase by more than 50% by 2030.Guide Dogs NSW/ACT is the state's largest provider of Guide Dogs to people who are blind or vision impaired. Their aim is to enhance the quality of life of people living with blindness or impaired vision and assist in an individual's achievement of independence through access and mobility.


Where is it

Come along to this free event at Lizard Log Amphitheatre, Western Sydney Parklands.

10.30am-3.00pm