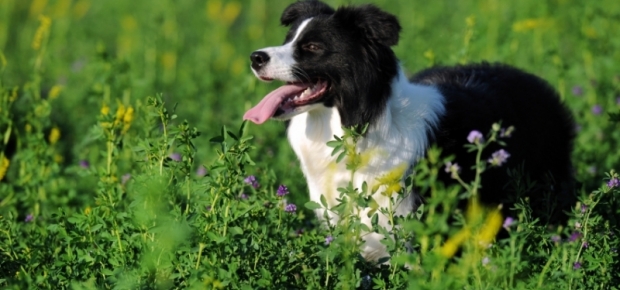 Holistic care and alternative medicine is an established part of the human health care universe, but how many of you know that your pet pooch or tabby could be booked in for a spot of craniosacral therapy or a massage? The growing realisation that what heals us and makes us feel better might just be good for our pets is not that far fetched a proposition. With this in mind petpages sought out Dr Barbara Fougere of All Natural Vet Care, a veterinary practice that espouses the use of complimentary medicine alongside conventional veterinary medicine, for an insight into this approach.
What is the ethos behind your practice?
"We offer a complete and caring service that combines the best of conventional veterinary medicine with natural medicines and therapies to ensure your pet receives the best treatment possible."
What facilities do you have available there?
"We have a fully equipped B Class veterinary hospital and offer a complete service in a registered veterinary facility with in-house laboratory, surgery, dentistry and digital radiology and ultrasound. We also have an on-site conventional and natural medicine pharmacy, and the practice is also an off site training facility for veterinary students of the Sydney University Veterinary School."
How did you come to incorporate natural therapies into your veterinary work/what inspired you to explore this avenue?
"For me, growing up with acupuncture to relieve and prevent migraines meant I didn't even think of it as an alternative. It was a necessity for me. Then at vet school I elected to do Complementary Medicine in my final year. That was 1986 and I haven't looked back."
What range of natural therapies do you use in your practice?
"We use a range of therapies including acupuncture, chiropractic, craniosacral therapy, herbal medicine, homeopathy, nutrition, massage, reiki, prolotherapy, gold implantation, naturopathy, physical therapies and nutritional and environmental medicine amongst others."
How do you approach each case, and decide which course of treatment to use (conventional vs. alternative), and are they often used in conjunction?
"We like to know what's going on from a conventional diagnosis point of view, so that's important, but sometimes with complex problems we find that an eastern perspective or a naturopathic perspective helps us to identify patterns and pathways that have led to this point. Sometimes we integrate treatment, using standard medications plus herbs for example. We aim to address the symptoms, but more importantly the underlying imbalance that has led to disease."
Can you describe a typical treatment regime involving one or more of those therapies?
"We have many lovely old geriatrics that come in once a month for a "tune up". They settle into a comfy mat on the floor. They are examined and if necessary a chiropractic adjustment takes place, or we may use acupuncture needles. Most dogs and cats sit happily while we insert the needles, and after the needles are removed at the end of the session a liver treat is given to the dog (not the owner!)."
What range of animals to you see in your practice?
"Big cats, fat cats, thin cats, fat dogs, thin dogs, little dogs, big dogs, smiling dogs, sick dogs, guinea pigs, rabbits, alpacas, mice, rats and the odd bird and two legged animals often ask us for advice, so we refer them to colleagues in the human health area." How long have holistic veterinarians been around, and what are its origins? "It's funny, holistic veterinarians are not new - in fact we seem to have come full circle! Our veterinary ancestors in Europe, the UK and the USA all used herbs as part of their practice, and many used homeopathy. There is a renaissance in looking at these therapies but in a different way. There is a small but growing evidence base for these therapies and courses for vets to learn different therapies now."
So how would a holistic vet's qualifications differ from a regular vet?
"Vets who take this form of medicine seriously usually undertake training. There are post graduate qualifications, with courses taking from 1-3 years. Some practitioners don't have further qualifications but have studied none the less, and have years of experience."
What are the most common ailments that affect modern urban reared pets?
"We see animals with allergies, gut problems, kidney disease, liver problems, cancer - lots of cancer - and lameness problems."
Are pet allergies a growing problem, and how do you treat these?
"These are way too common. The immune system is out of whack, so we work on the immune system and gut to effect a change in the balance. We treat everything from atopic skin disease, to food allergies, to allergies to just about everything. Treatment is individualised for this reason. Sometimes its quick, one dog had chronic itching for 2 years and responded in less than a week, another is improving over a couple of months. It is variable."
Do some animals respond especially well to certain therapies?
"Yes, cats and dogs respond beautifully to acupuncture and chiropractic. I love the gentle change they can effect in improving the patients wellbeing and health. It's very rewarding to turn a patient around form poor health to vitality, even if they have cancer or some other chronic problem, we can always make them feel better and improve their quality of life."
Have you ever encountered resistance from members of your profession for using alternative therapies?
"Ha! I've given up fighting the battle and just let the patients speak. Yes, there is a great deal of conservatism in the profession and an active anti-alternatives lobby in the profession. It's a real shame that beliefs can stand in the way of even trying something outside the conventional box, when a patient's health and happiness are at stake. And then we get the vets that want to know what we used, and how can they get some of that - it's nice to inspire curiosity!!"

Topic: Vets