CONTACT INFORMATION
Teaching Old Dogs New Tricks since 2002
A
Runaway Bay
Queensland 4216
M
0416 269 693
| | |
| --- | --- |
| | Make an Enquiry |
| | Email a Friend |
| | Print this Page |
| | Share |
| | |
DOG Services, walking, training Holiday Pet Care Doggys Day Out obedience training boot camp Gold Coast Runaway Bay Hope island paradise point dog Tricks pet care wash

***under construction ***


Diploma Childcare and Education - Marketing Degree - Cert 3 Emergency Childcare - Senior Cert in First Aid - Cert 4 Workplace Health and Safety - Cert 3 Sport Health and Education - Body Science- Cert 3 Coaching - Cert 4 Health and Fitness - Cert 5 Food and Beverage Silver Service - Cert Life Coaching - Business Management.

REVIEWS
Sally Py
★★★★★ 28 August 2017
I have been a client of Christine's for 7 years for my Neo Mastiff Bruce and my Boxer before that. Christine works wonders with training my very large dog since he was a puppy and it has made the world of difference! I can highly recommend her for dog training, group beach plays and extended dog sitting. She always has his best interest at heart and we are so greatful to have found her.
Karren M
★★★★★ 26 August 2017
I would first like too thank Warren Luff who recommended Christine too me to look after my choc lab while I am deployed overseas. To the amazing lady, Christine who looks after my choc lab, I cannot speak highly enough of you. You have cared for my baby boy for the last 8 months and have done an outstanding job, not only are you a qualified trainer and have taught my Buddy a lot since I have been away. You are so caring and passionate about the dogs you look after. My boy is always happy and healthy when I return home on my breaks. Again I would recommend Christine too anyone looking for day care for there babies. Karren McNeice
Kim K
★★★★★ 26 August 2017
Christine is a true dog whisperer. My dogs Sunny and Bella have learnt such good manners and social behaviors thanks to Christine. That makes all the difference in our family 🐶.
Julie P
★★★★★ 27 August 2017
I am so happy with the training we got on our one on one session yesterday with Christine! She is definitely the dog whisperer! Highly recommend! Thank you from the bottom of our heart.
Albie J
★★★★★ 27 August 2017
Dogs are loved, given lots of attention and spoilt! Couldn't ask for better. Would happily and highly recommend Christine.
Jacqui J
★★★★★ 27 August 2017
Christine is absolutely awesome and amazing at her job. She has a real passion for dogs!! She treats her customers (the dogs) like her own!!! Often goes beyond what one would expect. She is always a phone call/text message away. Will give you a run down of your dogs day out. I have found her to be accommodating and helpful. Christine is easy to talk to, friendly and relaxed. I would highly recommend her.
Danny A
★★★★★ 27 August 2017
Outstanding.
Jin E
★★★★★ 25 August 2017
Perfect doggy day out for my super active spotty boy... Especially when it's weekend and I have something on... 😊 Love the fact that Christine upload photos of the puppies playing ❣
Amy S
★★★★★ 25 August 2017
Boston loves going to his day Out returns home exhausted..


---
GALLERIES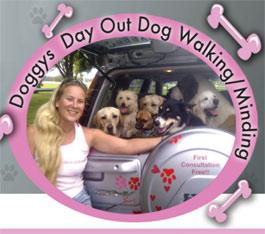 Doggys Day Out Dog Walking Training Services
(4 images)
Dogs are great Therapy. Miss having a dog? Need to decide what breed is best for you? Feeling Depressed? Come on a Beach Adventure Let us put a smile on you, you're guaranteed to see everything from a happier point of view.